It has been a long time since you and your pet are together. There might have been a lot that you both have shared either memories or tough times but then you finally overcame everything together. And, now when you and your pet are growing old, you need to put extra efforts to enhance your aging dog's longevity as well as to keep yourself healthy. So, to make it easier for a pet-parent here is the list of things you can do to stay healthy and keep your aging pet healthy.
Ensure Your Dog Gets Daily Exercise

Obesity in dogs can be a root cause of many age related issues in them. Therefore, it is crucial for pet-parents to include exercise in your furry pal's routine. Aging can lower their ability to walk or exercise as they used to do earlier but you still need to stick to it. Regularly exercising with your dog will not only help burn calories but it will also enhance circulation, improve dog's brain and heart function and will strengthen their muscles. In this manner, even you will be in sync with your good health.
Keep Your Dog Active
As your pup ages their world slow down a bit and that is why, it's you who can keep your Fido mentally and physically active. Give your pet regular exposure to the outer world where he can meet his playmates or meet new people and socialize with them. Moreover, ensure to enrich your pet's environment and stick to the predictable routine to help them reduce anxiety and mental uncertainty.
Provide A Complete Balanced Diet To Your Dog
Irrespective of the ages, you pup needs a complete diet. However, for your senior pet, ensure to give a diet that is less in calories and high in fiber. Provide more digestible protein and the food that contains higher moisture as it will be easier to digest for your dog's aging organs. It is advisable to give multiple small meals than feeding a larger one meal daily. Besides, there are many food for senior dogs are available in the market and you should give it a try for your pet.
Use Joint Supplements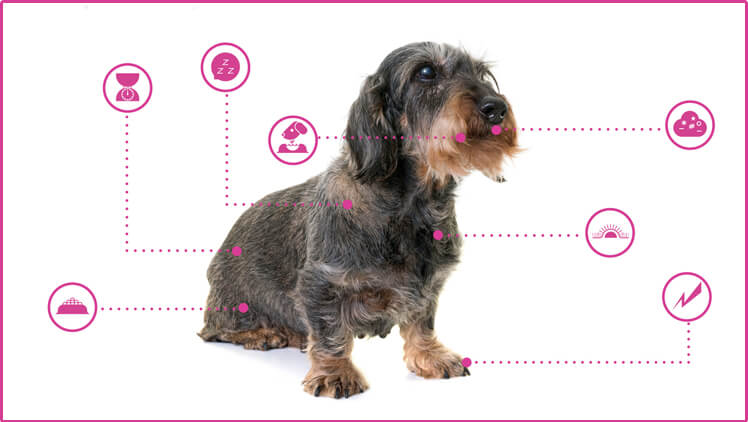 Aging dogs may face a lack of energy; they may don't move well from sitting to standing position or plop down from a standing position. And, this happens due to the lack of mobility and they get weak. Joint deterioration is a major concern in aging dogs so it is important to adjust their exercise schedule and control their weight. Many joint health supplements are available that can help improve your dog's joint health and life quality.
Watch Your Dog's Health
Senior dogs are prone to be infected with diseases and that's why it is imperative to pay a heed on their health. Even flea and tick infestation can engender malignant diseases if not taken proper care. Therefore, ensure to provide monthly flea and tick preventives, dewormers as well as joint care treatments to take care of your furry pal's overall wellbeing. Furthermore, if you notice any unusual symptoms in your pet or even a bit of change in his behaviour then immediately take him to the vet.
Even if you feel that your pup is fit and fine, do not neglect to examine your pet twice a year. Above all, keep showing all your affection and care to your dog. Loving your pet and keeping him happy are the essentials for their healthy immune system.
Top Health Care Products for Dogs @10% OFF!!!